What is in store if you watch the DVD release of this said movie? Well if you haven't read the book with the same title, then of course you wouldn't understand what this movie is portraying. Hence, this would be my first impression - movie screen play is vague.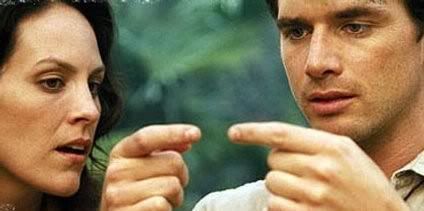 Though I've enjoyed reading the book itself, and had come to understand the different insights it depicts, I never imagined that the movie creators would be so lame on adapting the said book to screen play. Why? Well you will learn if you have read the book. But anyway here are some reasons why I find it such a poor movie:


1. Story was changed from the beginning to the end.


2. Some characters were missing, even if they were vital in the said story.

3. The insights were poorly explained in the movie. (This was the most important thing in the said movie, but why explain it in such a haste manner!)

4. Some characters presumed to be dead (e.g. Fr. Jose) ended up alive up to the very end. More so, John and Fr. Jose never actually met each other.

5. Why did Julia wanted to adopt a child? It should not be in the story!

6. Flashbacks? Visions from the past? Visions from the future? It's not in the book. The only thing involved was finding for answers based on hidden messages brought about by the people you encounter and not by seeing the actual thing that is going to happen.

7. Marjorie never reached the Ninth insight, she is more preoccupied in the third insight that is why she never learned the rest.

8. The chase for the Ninth insight, it's not in a craved stone but on a scroll hidden by Cardinal Sebastian.


So, I think, I've given enough points for you to wonder why IMDB's rating is 4.9 in this movie. Besides, I've spilled a lot of spoilers for both book and movie.


Anyway, there is only one thing that would let you stick on your chairs while watching this movie, it would be Matthew Settle (John).



Related Links:

IMDB: The Celestine Prophecy

The Celestine Prophecy Official Website

The Celestine Prophecy Synopsis