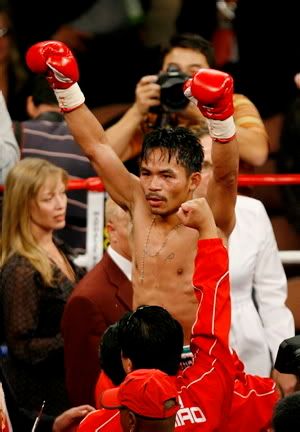 The much awaited second fight of
Manny Pacquiao
and
Antonio Barrera
has finally ended, and for the second time it's still Manny Pacquiao who had won! So what will happen to Marco Antonio Barrera after he had eaten what he had said in the pre-fight? According to the
GMA 7 news
, he might be forced to retire due to his failure to win for the second time against Pacquiao, more so due to his consecutive loses against other boxers. Ain't I hearing the same escape goat of an alibi again? As I recalled promptly and correctly, Erik Morales also had said the same thing when he lost to Manny Pacquiao before.
Anyway, the Filipino's Boxing Champ won in a unanimous decision from the 12 round fight, and the score cards were as follows:
Judge Tom Schreck scored it 115-112 for Pacquiao, while Jerry Roth and Glenn Trowbridge both favoured Pacquiao 118-109. The Associated Press also gave it to Pacquiao, 116-111.
(Chronicle journal)
Isn't that what boxing analyst had viewed prior to the fight, that Manny Pacquiao had the upper hand against his opponent? True to what they'd all been blabber about, it does end up the same as what they had expected, but the turning point of the fight was not about who had won, but instead who was the one who had shown the will to win. Both players had remained standing up to the very last round, which is of course very unexpected since both refused to be knocked-out, and this is, I think the best part of it.

But the question still remains the same anyway, am I going to be proud for him? Well, part of me wanted to go and rejoice since another Filipino had made a name in the field of sports, but at the end of the day, it's still just Manny Pacquiao achievement, and not the rest of the community.

P.S. Don't get me wrong, but this is what I'm feeling right now. I'm feeling kind of indifferent.