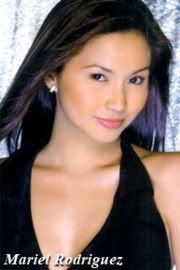 Mariel Rodriguez, the host of the Big Brother Philippines Celebrity Edition show Uber, is now an official house mate! The said twist in the show was really unexpected, not just for the viewing public but for the host herself, since she wasn't notified early on that she would be included as a house mate. Poor Mariel, she had the intuition already that she might be forcefully be included as one of the house mates but she still worked as the Uber host up to today not knowing that it's her last day as its host and the start of being a house mate. By looking at her reaction, she really didn't expect it and least to say made her cry. I pity her for being so unprepared, imagine she doesn't even had any clothes with her as she entered through the confession room, since she was coerced. Well this is a new and exciting chapter on the said show, so I'm going to stick my eyes glued on the said show up until it's end.
Go! Go! Mariel! We, the viewers of your show since season 1 up late will miss you.
P.S.
Do your best, whether you're going to be a temporary house mate for a while, or a permanent house mate.