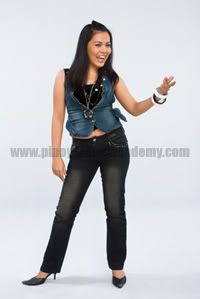 Laarni Losala (a.k.a Laarni Lozada as Director Joey Reyes had dubbed), an aspirant singer from Sultan Kudarat, was hailed as the top scholar of this year's season of the Dream Academy, Philippine Edition. Laarni, who was blessed with such superb vocal quality and prowess had impressed almost a million Filipino viewers, hence secured her their votes and support up unitl the last night's awards show where she was given the title Grand Star Dreamer.
A dreamer from the troubled province of Mindanao, Philippines, she now had fulfilled her dreams of becoming a singer and her longing desire to alleviate her family from their impoverished condition. Still she has a long way to go and a lot of obstacles to face in the harsh world of the music industry, but with the people's support I know she can conquer it all, just the way she had conquered it on the night of her proclamation as the next Grand Star Dreamer.
Congratulation to this years winners of the Philippine Edition of the Dream Academy, may all your career blossom.